previous -------- Journal entry #6 -------- next
journal - main -#1- #2- #3- #4- #5- #6- #7- #8- #9- #10- #11- #12- #13- #14- #15- #16- #17- #18- #19- #20-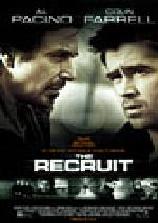 I just went to watch the new movie, The Recruit. I thought this movie was well worth it and would recommend it to anyone. It was an action movie about the CIA and how training ops work. It had a few twists in it that kept the audience interested, not to mention a couple of hot girls. And Pachino was excellent as usual.
I'm probably the biggest movie buff you will ever know because I have seen just about every movie out there. This does make it tricky going to blockbuster. I'm down to watching all those movies most people pass by because they look like low budget movies or didnít ever make the theaters. These however are my prey because every now and then you find a diamond in the ruff. I like doing this for one reason; movies just take me out of this world for two hours or so. So no matter if it is a good movie or not, I'll watch it for that reason only. Now donít get me wrong, I always like watching the good movies, but ill see just about any movie once.